C'NT Programming
Chair Painting
Mark Dicey 2008
Read a review in FFWD by Anthea Black
Chair Painting is a static display of a painting and sculpture by Mark Dicey and an action/sound work performed by MD accompanied by musicians Lyle Pisio and Dan Meichel. A basic simple chair that has been a part of Dicey's studio furniture for many years is used physically and metaphorically within this work presented at Carpet 'n' toast Gallery. This inanimate object represents the human being (the artist) at a time when he/she is stationary. A time of reflection and contemplation. In the go go go high speed lives many of us live this sort of reminder is all important to ones' well being and creative development.
The approximately 30 minute action/sound work will be performed by this trio that has worked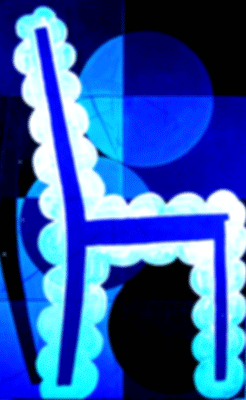 together for many years under the name of "tokyosexwhale".Saxophone and Clarinet will be used by Pisio andMeichel to accompany Dicey who will be "working" the chair as a sound component and developing it as a sculpture. As in their past work this will be an unscripted free improvised piece. The residue and completed work will be left for the remainder of the exhibition.
Mark Dicey's artistic practice is influenced by many different sources: landscape and the human figure are main drivers in the generally abstract work. Other influences are sound and rhythm that Dicey pursues as a percussionist, listening to sounds/noises in our urban environment and tuning in to the rhythms and actions of our own bodies. The activities of walking and running for both physical well being and to absorb his urban surroundings are brought back to the studio and reflected in the work. Nature, architecture, pathways, roadways, public parks, industry to name a few observed areas that feed into the work.
Mark Dicey • cv • images