C'NT Programming
John Will
MY WORK IS NEVER DONE
This series of paintings from 2001 was an attempt at exploring what physiologists refer to as a male's "feminist side". I stopped making them after my failed attempt at worming my way into a show called "Making It Like A Man" curated by David Garneau. Now, lo and behold (!) a real woman (!), Shelley Ouellet, has graciously and bravely offered me an opportunity to exhibit them for the first time at the Carpet 'N Toast Gallery.
I never ever really thought I was a woman. In fact, the thought of that monthly thing, to say nothing of cruising the clubs in search of companionship, gives me the shivers to the the point of delirium. At the same time, I read somewhere that both sexes do share particular genes which, in my case, may account for certain girly predilections that sometimes creep to the surface....you know, things like the occasional nagging of my wife, the urge to yell at the women on the Red Mile "Go Girl" and my addiction to bouquets of lovely aromatic spring blossoms.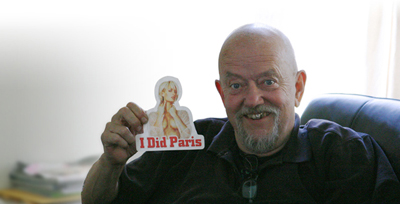 I believe it was either Shakespeare or Emily Dickinson's who best summed the whole mess up:
Tis nothing so fair as me in a thong
To make a fair lady know I belong.
Yea, if not to her club, than rather in fact,
That I too have a bulbous butt crack


JOHN WILL
June, 2006
A FEW WORDS FROM THE CURATOR
As a student, John often tested my will. I came in for my mid-term review and instead of discussing my ample body of work, he complained that there was no coffee. The communal coffee pot was a privilege earned by senior printmaking students and quite frankly, a source of constant dispute. I asked why he didn't just make some instead of sitting there waiting for me and he said it was women's work to make the coffee. With that I turned on my heel and huffed away down the hall. I managed to avoid speaking to him for almost the entire day (which was hard as he was my only instructor that term). When he finally caught up with me he was puzzled that the coffee thing had made me so mad and in his defense he said, " Well, if wasn't for me, you wouldn't know why you were a feminist."
While this statement didn't really stop the vein from popping out of my temple, as usual, he may have had a point. Throughout my career, John has been an important and, at times, irritating mentor. Judging by the number of influential women who allowed John not only to show embarrassingly old work, but publish slanderous lies about them really says something about who the man really is. (see the Willagio catalogue) Perhaps these ladies have always seen John's "feminist side" and now you can too.
SHELLEY OUELLET