C'NT Programming
This Old Thing - Reconsidering Landscape and Icons
Shelley Ouellet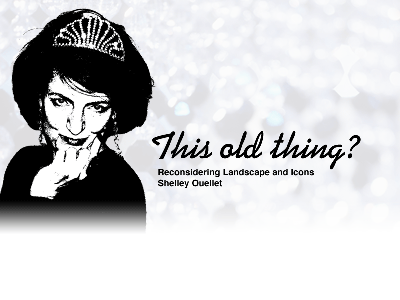 Viewing:
Fri and Sat,
Feb 1 & 2, 2008 - 1-5 pm
Closing reception:
Sat, Feb 2, 2008 - 8 pm
Exhibition documentation on shelleyouellet.com
I recently had the opportunity to install Lake Louise (2001) for an exhibition at the Nickel curated by Colleen Sharpe. It was nice to play with the beads again and I've been thinking about some other old things ever since. I decided to use the Carpet 'N Toast Gallery for my own ends and cracked open some long-stowed crates from Michael's garage. I want to take some time to look at these things and the opportunity to invite you to have a look as well.
Landscape
Saguenay (2002) is the third sculpture in a series and built for an exhibition at the Nickel Arts Museum. The Wish You Were Here... project evolved over several exhibitions and involved dozens of volunteers in five Canadian cities. The project included three beaded sculptures based on paintings of majestic Canadian landscapes from the late nineteenth century. Lucius O'Brien's, Sunrise on the Saguenay (1880) is appropriated and the port is recreated with more than 60,000 plastic beads. Predating widespread use of photography, O'Brien, Church or Bell-Smith painted what Canada looked like helping to form an identity for a new country.
Icons
Marilyn (1999) was originally created as a DIY product for an exhibition in a commercial gallery and played with the "notoriety" of more ephemeral sequined star portraits like Rita Hayworth (1996) and Audrey Hepburn (1996). Limited edition, boxed kits to install a portrait of Marilyn Monroe complete with pins, sequins, spacers and complete assembly instructions were for sale and floor models in the exhibition showed the finished installation and apartment-sized variations. 9 Marilyns (2002) is made from recycled LiteBrite™ boxes and revamped with small, pretty crystal beads or - as we say in the industry - is a "material-driven" work. Both Marilyn and 9 Marilyns rely on the same image of Marilyn Monroe because it is so recognizable. Thanks to Warhol, mass marketing and the lady herself, Marilyn can be seen at very low resolution and with little visual information.
Shelley Ouellet
Images | Exhibition documentation on shelleyouellet.com